A passed me a whiskey sour and sat across me. It's been a good month or so since I've moved into this home. Topic of the evening was A's work on dementia. That's how our conversations go – from finding out the neighbours have 2 dogs, to the much discussed FICA; and N's work on helping foreign domestic workers. At some point I shared with the housemates what Prident was about.
Our latest Estate Planning series covered the status quo in Singapore and the community's wants and needs. We then split the topic into 5 smaller sections – wills, LPA, AMD and CPF, Insurance and bank accounts. The last segment will be on trusts, which we will dive into during the Estate Planning Basics presentation. We also covered HDB and private property ownership in 2 well-received webinars where we realised we should have spent more time on the Q&A sections instead. This also meant that the LGBTQ+ community in Singapore has more questions that we need to address better.
We have five pillars and it looks a little bit like this. In the upcoming event, there will be different sessions that span these highlighted areas.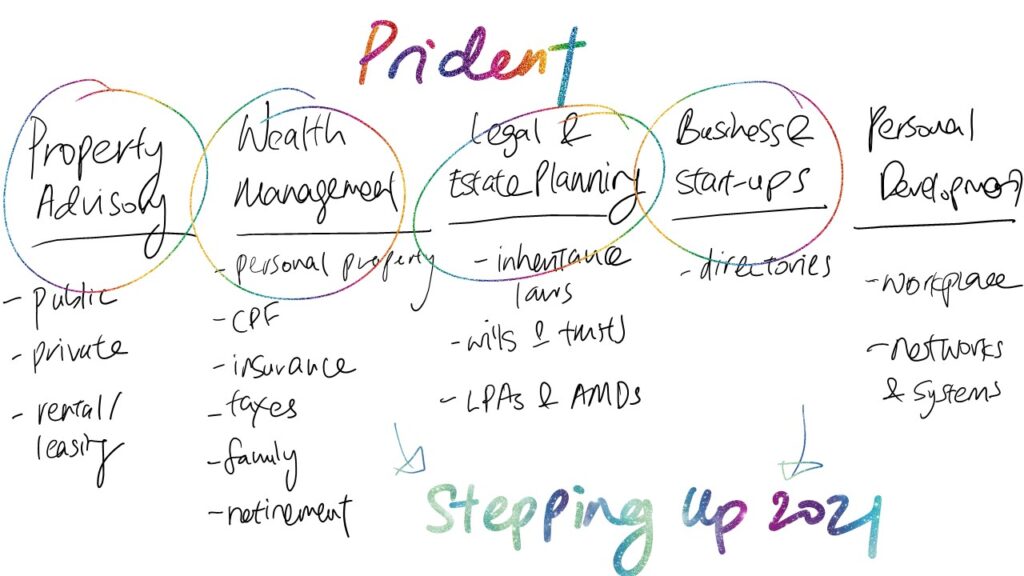 The original suggestion for the festival name was "Live Loudly and Proudly". I genuinely thought that was a good one but most voted otherwise. I reckon that's why I only write nerdy stuff instead of being a copywriter.
Moving out was hard for me. Even though I was ready to 4 years ago, various matters and guilt kept getting in the way. However, I do not think most people have the luck and privilege that I do. I was not kicked out because of my sexual orientation, I have a career and a good support system. What I needed to do, however, was to place myself in a physical space where I could truly live as a loud and proud individual. That meant moving out, which required me to step up and take the plunge. I landed in this household and it has been Invigorating, even though I can barely make time to relish and be present for now.
Stepping up, out of choice or need, whether you just started building your career or you're in your 50s, means something different to everyone. It is a constantly evolving process and you already know roughly what needs to be done. It is about finding out about your blind spots and picking up different methods on how to create options that suit you and your family.
Hosted by 99.co, Prout and Prident, this will be Singapore's largest virtual property and finance event. We hope you join us as we tease out real concerns from individuals from the community and speakers share how they deal with these concerns using their expertise and experience.
It will be flexible with 2 main halls and you can pick which sessions you would like to join. Each panel or sharing session will break down some strategies to bite-sized pieces, so that you can choose from various options after determining what suits you, and take the next step. I think "Stepping Up" sounds cheesy, but has a good ring to it.
Find out more and secure your tickets at: go.99.co/steppingup
About the Author
Wan Yi is in her 5th year of providing holistic financial planning services, which includes insurance, investments, family and retirement planning, business and estate planning. She now writes wills too! To do this, she partners with law firms, general insurance firms as well as investment platforms to ensure top notch service.
Her aim is to equip people with the clarity and confidence to execute decisions. There is a lot of noise, but money does not have to be complicated. Wherever you're at, let's make a plan and adapt along the way. You can reach out to her through Prident, LinkedIn or Facebook. 
Disclaimer: The views expressed belong solely to the individual contributors in their individual capacities and do not necessarily reflect those of their respective employers, organisation or other group. Any information provided does not constitute legal, financial or any kind of advice. You should obtain specific advice suitable for your circumstances from an appropriate professional before taking any action. Although we try our best to ensure the accuracy of the information on this website, you rely on it at your own risk. We welcome feedback relating to factual accuracy via email at info@prident.co.