Investments – everyone knows about it, some are doing it, but most are not sure how to go about doing it. As an individual in the LGBTQ+ community, it is important that we equip ourselves with at least the basic knowledge for various personal goals (e.g. buying your own place, planning for your transition surgery, retirement).
So, to invest or not to invest? That is never the question. As we know by now, in Singapore, we do not have as much support as compared to heterosexual counterparts (i.e. we do not receive as many grants when buying a HDB, we can only buy a 5-room HDB flat from the resale market and not via BTO). Unknowingly, you are already making a subconscious decision to invest! 
A trainer once told me that having your savings in the bank is also a form of investment. You are putting your money in the bank to earn the interest. Although it is not a lot, there are still some forms of returns and they are guaranteed (well, sort of, unless the bank goes bust which is almost impossible). So why not use some of the money in the bank to invest!
By now, I can see several thought bubbles forming in some of your minds – "Doing investments needs a lot of money?",  "I don't have that much to spare…" or "I don't know how to…"
Hopefully, after reading this, you are able to have more idea how to do it.
Types of Investments
There are many types of investments that one can look at, and that can be confusing to many. Here are some forms of investment that are available in the market and commonly talked about.
Investment Linked Policies

Unit Trusts (via Investment Platforms)

ETF (Exchange Traded Funds)

Cryptocurrency

Stocks

Luxury Goods

Properties

Yourself
Yes, yourself! Nothing is more important to invest in than yourself. You have to keep on enriching yourself to make sure that you keep up with the time. That's why you are reading the article, no? Okay I digress, let's continue. 
With so many forms of investments to choose from, you may have a hard time deciding. So here is a flowchart to help you decide!
Why should I Invest as a LGBTQ+ person?
Earlier in the article, I mentioned that doing investments should never be a question to ask. We should just invest – especially for a LGBTQ+ person. Let's list some stuff which we may encounter.
Home ownership
Singapore is not exactly kind to us when it comes to home ownership. We can only buy from the resale market if we wish to have a 3 room and above apartment. Depending on which area you are looking at, it can be very expensive. Let's not go into private housing – not cheap at all… below is a comparison table which I have lifted from an article written in September 2021 in Property Guru which you can read here.
Single

Married

3-Room Resale Flat

S$300,000

HDB Eligibility Scheme

Single Singapore Citizen Scheme

Fiancé/Fiancée Scheme

CPF Grant

S$25,000 Single Grant

S$50,000 Family Grant

S$12,500 Enhanced CPF Housing Grant

S$25,000 Enhanced CPF Housing Grant

S$10,000 Proximity House Grant

S$20,000 Proximity House Grant

Price after Above Grants

S$252,000

S$102,500 per spouse
As a single LGBTQ+ person, you have to shoulder 1.5 times of what a heterosexual couple is paying. I dare say everyone of us like being debt free a little earlier and faster. Solely relying on savings, pay increment and bonus will not be able accelerate the progress.
Gender Realignment Surgery 
For individuals who want to realign your gender, you will not be pleased to know that our MediShield and Integrated Shield Plan do not provide cover. Basically, you will have to fund yourself. The prices vary depending on the extensiveness of the surgeries – not forgetting that there will be a lifelong fixed cost of getting your hormone replacement therapy. 
Retirement Planning
Some of us may not have children. We also cannot rely on our nieces & nephews to provide for us since they have their parents to look after, so it is really up to ourselves. How many of us will want to work till we are on our deathbeds just to make sure that we can get by day-to-day?
Jie Bin provided us with some insights towards the planning for your retirement. You can read her article here.
Family Planning
For those who wish to have children, I salute you for it. Not only does it take a lot of determination to fight against the norm (on top of what we are already fighting for), the cost of having a baby is not cheap. Let's not even go into the education for children part of things. If you are the only parent, it is a super heavy burden.
I am sure that you have considered it on a granular level to even decide to press on with this plan! 
Wanyi, my fellow team member, wrote an article about the cost of family planning. Click the link to read more about it. 
With all that being said, I will not say these things are unachievable. Although with just savings, pay increment and bonus alone, it will definitely take a longer time to attain these goals. In some cases, you may even be in debt. Which, as a savvy LGBTQ+ person, we should be able to maneuver our way out of it by making our money work for us (rather than us working for our money) by investing.
Who to choose?

 
Before making a decision on who you should start your investment journey with (e.g. financial advisor, robo adviser, or DIY), let's look into the emotions of doing investments. There are 2 emotions which we often see: Fear and Greed. Most do not mind a bit more money to finally get a place of our own, to re-align to the gender that some of us might be wanting to do since the dawn of time, or etc. At the same time we also are afraid to lose all our hard earned money to investments – especially since we have heard so many stories where people got their fingers burnt by investments.
If you are the sort of person who will let emotions get the better of you during investment, I suggest that you engage a financial advisor. They may "hold your hands" and help you do some strategy planning, including your exit strategy. I mean, let's face it, when you see the market go tumbling down, will you have an heart attack? More so for someone who is new to investments. Like what my friend did to me when the Ukraine & Russia war just started. She sent me via Whatsapp in hanyu pinyin " Wo De Qiannnnnnnnnn!!!! (My money)" but I was there to assure her that it's going to be fine and flashed this image to her.
image: @bearablebull from twitter
I do not condone war. Yet, understandably, the market will make a dip when there are such major events like war. As seen in the picture above, unless you are a very strong willed person who can overcome that, you may want to rethink investing on your own. If you do your investments yourself or have a robo-advisor, most people may succumb to fear and start selling their funds – which will actualise the paper loss.
Also, a thing to note is that doing your own investment is a very time consuming process. If you do not think you have that much time to monitor the market, it's best to engage a financial advisor to help. 
When should we enter the market?
A friend once told me that he wants to do some investments because he knows that it's something that he must do. After I presented to him my thoughts and portfolio, he decided that it was not the right time to enter the market because he wanted to wait it out. Guess what? He did not start his investments because he still thinks that there is a better time to do it. 
We are living in an era which has a very volatile market condition (e.g. the Russia and Ukraine war, Covid, rising Fed rates, etc). Do not be like my friend who times the market. Instead, know your investment goals and strategies.
Investments are usually for a long time (minimally 5 years, preferably 8-10 years. Anything less will be speculative). When you finally decide to start investing, just start… do not wait. While your point of entry may be higher at this juncture it does not mean in the future it is going to be the same!
For example, you bought into a fund in Sept 2021 and the fund price dropped after. This seems like a bad deal, but, like I said earlier, the market is volatile. After dipping in the month of October, the price actually went back up!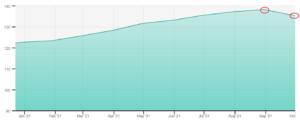 image taken from https://secure.fundsupermart.com/fsm/home
Of course, it is only normal to wish to enter the market while it is at its low in hopes of earning a tidy sum when it rebounds. However, it is almost always impossible to know when the market is at its lowest. Although we can deploy some tactics to help you to rebound faster (a story for another time perhaps).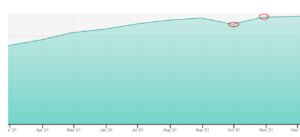 image taken from https://secure.fundsupermart.com/fsm/home
Conclusion
Investment is not a fool proof way to earn quick money. Those who tell you that they can guarantee you incredibly high returns in a short period of time, 90% of them are fraud. 
If you are capable (must be emotionally stable and have a very strong heart) and have enough time to invest on your own, go ahead. Otherwise, engage a financial advisor to help out. Make sure that you have set up your goal, and plan your exit strategy properly – be it a short term goal of saving S$20,000 to commence your gender realignment journey, or to have enough to pay for a down deposit for a place you call home.
Remember that you will attain your goal faster via investments and regular savings than just having regular savings alone.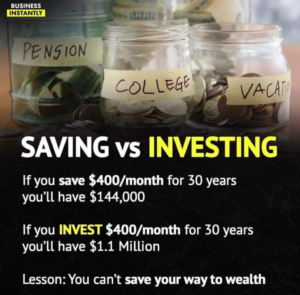 picture taken from: @businessinstantly, instagram
---
About the Author
Corin has been in the insurance industry for the past 10 years as a business development manager for some major general insurance companies before deciding to take a leap of faith to be a financial advisor.
He is currently in a financial advisory firm which has multiple insurance partners, he is able to assist clients to procure from them to best suit his clients' needs. His aim is to make sure that his clients understand the importance of financial planning and making sure they are well protected for any unfortunate events.
He is currently an enneagram coach in training and after getting the license he hopes to help people with their self-actualisation journey using Enneagram.
Reach out to him via his email, facebook or even instagram! 
Disclaimer: The views expressed belong solely to the individual contributors in their individual capacities and do not necessarily reflect those of their respective employers, organisations or other groups. Any information provided does not constitute legal, financial or any kind of advice. You should obtain specific advice suitable for your circumstances from an appropriate professional before taking any action. Although we try our best to ensure the accuracy of the information on this website, you rely on it at your own risk. We welcome feedback relating to factual accuracy via email at info@prident.co.