For quick access: 
Family Planning for LGBTQ+ Couples in SG
"If you are gay, does that means you can only adopt? Will your partner be considered a legal guardian then?" 
In February alone I was asked this question thrice. Nevermind that people around me assumed I wanted kids, that bit was funny. The thing that got to me was how even the straights knew how hard it is for queer folk to have children. 
To try make things simpler, if you are considering or will eventually think about raising children as an LGBTQ+ family, the following are some important considerations. 
In each section we elaborate just a little on the method(s), some legal matters and the implications they have on the LGBTQ+ community, as well as finances involved. 
Assisted Reproduction Technology
The Status of the Child (Assisted Reproduction Technology) Act 2013 clarifies and governs the legal parenthood and status of children conceived through ART.
This Act applies only to a child born as a result of a fertilisation procedure where: 
(a) the child is born in Singapore
(b) any of the following persons is domiciled in Singapore at birth of the child:
the gestational mother of the child;

the husband;

the de facto partner;

the person whose sperm or egg the child was brought about with;

the person who consented to the fertilisation procedure.
Who is the legal mother of children born through ART?
The gestational mother of the child i.e. the woman who gives birth to the child, regardless of which country the procedure took place in.  Eggs and sperm donors will not be treated as the parents. This is important to note because in a male same-sex couple, even if one of their sperms is used, he will not be recognised as father legally.
Who is the legal father of children born through ART?
There are a few categories that can be used to qualify a man as the legal father of the child born through ART.
The husband of the gestational mother at the point of procedure if:
His sperm was used

His sperm was not used, but gave consent to the procedure. 

His sperm was not used, did not give consent at the time it was carried out, but the husband through his actions over time accepted the child as a child of their marriage, knowing that his sperm was not used
For de facto partners (not married) of the gestational mother, the same 3 categories above apply. However, an application to the court and declaration by the court to determine parenthood of the child is required. 
Implications for the LGBTQ+ community
LGBTQ couples may turn to Assisted Reproduction Technology (ART) to have children due to biological limitations. In Singapore, ART services can only be provided to married women and only with the consent of her husband.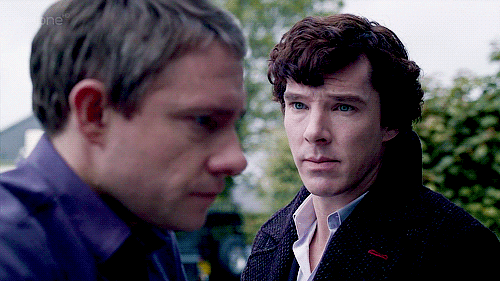 Although this excludes LGBTQ couples in Singapore, they can consider obtaining ART services overseas where these are legal. There appears to be no restrictions. Here are some options available to get pregnant. Do remember to check if the clinic works with single women and/or LGBTQ+ couples beforehand. 
Assisted Reproduction
A single woman can travel to a few countries to do this. Some of the more popular choices include Malaysia, Cambodia, Australia, Taiwan and the United States. There are 2 main types – Invitro Fertilisation (IVF) and IntraUterine Insemination (IUI).
A quick run-down: 
IVF: 
Eggs are extracted from the ovaries and mixed with sperm to form embryos, which are then transplanted into the uterus

More complex procedure

Success rate is between 15-40%

8-10x more expensive than IUI
IUI:
Sperm is taken and put into the uterus using a catheter

Simpler procedure

Success rate is between 5-20%

Less expensive than IVF
Sperm can be purchased from sperm banks and you can get it sent to your hospital. Local sperm banks can be found in some countries. Other countries like Thailand allow you to obtain and ship sperm from overseas.
Budgeting for IVF and IUI 
For married heterocouples, 1 IUI cycle would cost about SGD660-2,500. For 1 IVF cycle at a public hospital, it would cost about SGD10,000 – 15,000 and SGD12,000 – 20,000 at private medical centres before subsidies. 
This usually includes the following:
Initial diagnostic tests 

Consultation (depends)

Donor sperm from sperm bank if required

IUI AID – insemination with donor sperm

Egg, embryo or sperm vitrification and storage

Medication

Monitoring scans

Embryo monitoring
In common places such as Johor Bahru, IVF treatment may cost about SGD5,000 – 7,000 per cycle. Each IVF cycle in Australia averages around AUD9,900 and AUD2,611 for IUI. In the UK, the average IVF cycle costs about GBP3,000 – 5,000 and EUR4,000 is an indicative total figure for the EU.
As the first cycle is sometimes not successful, we found that many clinics in Singapore as well as overseas offered subsidised rates for cycles thereafter. 
Here are some of the tips we have gathered from the people we have interviewed:
Have a decent amount as a buffer,

sperm from the US cost a couple SGD2,000 – 3000 for a vial, which they shipped 3-4 off at once

Bear in mind the costs of travel to the foreign country and accommodation

Consider getting some preparation tests done in Singapore and only head overseas to get the actual procedure done to reduce costs
Insemination at Home
There is of course, the 'ownself do ownself' method as well. A cost efficient method, one can find a sperm donor and use a syringe. However, it is important to communicate boundaries properly and it would be useful to set out a contract between donor and donee beforehand. 
If you have a female partner who will be the gestational mother through ART and is a Singapore Citizen, she will be considered as the mother legally. 
However, under the law, a child is legitimate only if he or she was born or conceived during the existence of a valid marriage between the biological parents. Since LGBTQ+ couples cannot be legally married, a child born out of ART or insemination at home is considered illegitimate. The children are not eligible for certain social benefits, and the parents do not enjoy the same tax and housing rights as heterosexual married couples. I.E. Lesbian couple who got married overseas. 1 of the partners gives birth, the child is a Singapore citizen but not a legitimate child.
The other problem – in a male same-sex couple, even if one of their sperms is used, he will not be recognised as father legally. This then brings us to adoption.
Adoption
As long as the following requirements under the Ministry of Social and Family Development (MSF) are fulfilled, although homosexual couples cannot jointly adopt a child, one partner can adopt as a single parent. 
Who can adopt? 
Singaporean residents: Singapore Citizens, Permanent Residents,

or individuals who hold passes which the Family Justice Courts deem fit to qualify them as residents in Singapore

Adopters must be older than 25

Single males are not allowed to adopt a girl unless there are special circumstances 

If there is blood relation or special circumstances, the adoption may be allowed

Maximum gap between adopters and child must not be more than 50 years
Who can be adopted?
The child must be below 21 years old

He or she must also be a resident of Singapore. A child residing in Singapore on a visit, student's or special pass will not qualify.
Can Singapore residents adopt a foreign child?
If you intend to adopt a foreign child or a child from MSF, you must apply for a Home Study Report which assesses eligibility to adopt. This costs roughly $1,500 and involves long interviews with social workers 

There will be a compulsory Pre-Adoption Briefing before you apply for a Home Study or begin the legal proceedings on adoption.

If a Home Study Report is successful, adopters need to apply for a Dependent's Pass for a child to stay in Singapore till the adoption is finalised. This pass is valid for 9 months

After identifying a suitable child, adopters must get written consent from the birth parents and the child's identification documents

After the above is done, the application can be submitted to the Family Justice Courts, which leads to a hearing to determine if it is successful 
What are the costs like?
If a couple goes through an adoption agency to look for a child, they can incur fees of between SGD25,000 – 40,000.
However, it may not be necessary to engage an agent. Touch Adoption Services and Apkim Centre for Social Services, accredited with the Ministry of Social and Family Development, are voluntary welfare organisations. 
Implications for the LGBTQ+ community
LGBTQ+ persons can adopt as a single parent as long as they fit the above requirements as stipulated by the MSF. With any combination however, only 1 parent will be recognised as the parent. It is difficult for male-male couples to adopt a girl as well. 
For a female-female couple who used home insemination, the situation is akin to a child being born to a single unwed mother (because the marriage assuming there is one, is not considered legal). In this scenario, the child will be considered illegitimate in Singapore. 
For unmarried parents with an illegitimate child, adoption can make your child legitimate. Both Muslims and non-Muslims can adopt. However, Muslim adopted children are not eligible to inherit their Muslim adopted parents' estate and vice versa. (We will cover Shariah law in a separate write-up soon. Remember to like/subscribe!). 
There are pros and cons to adopting your child. The good thing is that your child becomes legitimate. He/she/they will have the same level of priority as children born within marriage for inheritance of their parents' estate under Civil Law.
However, the biological father gives up all ties to the child. He will no longer have any access rights to the child. The flipside is that he will also no longer be obligated to pay maintenance.
Adopting your child will not make you eligible for government benefits that are limited only to married parents (e.g. Extended Baby Bonus Cash Gift, housing, etc.).
Surrogacy 
Because single men are not allowed to adopt females, and the usage of their sperm does not make them the father legally, surrogacy – the arrangement of a woman to carry and bear a child for the intended parents –  is often chosen by gay men who want to have children. 
Whenever I think of surrogacy (I mean.. not that I think of it often), Handmaid's Tale pops up (such a good show please go catch it.)
Placing any ethical considerations one might have aside, the method is probably the hardest and the riskiest. 
While there are no laws that explicitly state that surrogacy is illegal in Singapore, the provision of surrogacy services is illegal. The Ministry of Health's guidelines state that facilities providing assisted reproduction (AR) services are not allowed to carry out surrogate arrangements. Any AR centre can have its licence suspended or revoked if found doing so. 
The obtaining of surrogacy services overseas is currently not illegal in Singapore and so, single and married persons have gone overseas for this. Some popular choices include Thailand, Malaysia and the United States. Canada, Denmark, New Zealand, the UK and some parts of Australia banned commercial (where the surrogate mother gets paid) surrogacy but allow altruistic surrogacy. 
A quick look at the 2 main types: 
Gestational surrogacy:
An embryo is created by IVF and then transferred

An egg donor is required

The child is genetically unrelated to the surrogate 
Traditional surrogacy: 
The surrogate is impregnated naturally or artificially

The surrogate is the egg donor

The child is genetically related to the surrogate
The obtaining of surrogacy services overseas is currently not illegal in Singapore. However, the problems arise when it comes to formalising their relationship with the child. 
So who will be considered the parents legally? 
Who will have parental rights over a child born through surrogacy will differ according to the laws of the country in which the child was born. For example, in Laos, birth certificates will state the surrogate mother and intended father as the legal parents. The intended mother will not be considered the legal parent. The intended parents will have to adopt the child after.
Parents who have gone overseas and returned to Singapore to apply for adoption of their surrogate children will be assessed on an individual basis. Minister for Social and Family development Desmond Lee said that prior to the adoption case by a Singaporean gay man, the Courts had granted adoption of 10 children born abroad as a result of overseas surrogacy. All 10 cases were made by married (read: hetero) couples applying to jointly adopt their own biological children.
In 2018, the Singapore High Court allowed a gay Singaporean man to adopt his biological surrogate son. The man had been living together with his partner and had conceived the child through commercial surrogacy in the US. Although Singapore public policy is against the formation of same-sex family units, the court granted the adoption application on the basis that doing so would be in the child's interest. This was because adoption would increase the child's chances of getting Singapore citizenship and being able to stay in Singapore for the long-term, where his natural father and family support structures were.
However, his bid to have his same-sex partner named guardian of his son, as well as a girl he fathered in the US through a surrogacy arrangement, did not go through. The High Court ALSO rejected his bid to have his partner awarded joint custody, care and control of the children.
There is no guarantee that your adoption application will be successful, one should consider carefully before proceeding with this option.
Implications for the LGBTQ+ community
Following the landmark ruling, Singapore is reviewing the adoption law and looking into the issue of surrogacy. It was previously tough for Both hetero and homosexual couples. With Lee stating on behalf of the MSF that "We do not support the formation of family units with children and homosexual parents through institutions and processes such as adoption", it sounds like it's only going to get tougher. 
What about obtaining citizenship for the child? 
Generally speaking, birthright citizenship happens in most countries – a child will obtain citizenship in the country in which he/she/they are born. Eg. When a surrogate mother in the US delivers a child there, the child will hold US citizenship.
If an individual brings the child back to Singapore, you may apply for Singapore citizenship with the Immigration Checkpoints and Authority (ICA). 
However, this will be difficult as mentioned. You may need to adopt your child first in order to secure a higher chance with citizenship application. As adopting a child through surrogacy is not guaranteed, one will face difficulties doing so too. 
In Singapore, we know of at least 2 male-male couples with all their kids being US citizens. Both families have to leave the country every 90 days to get visitor's passes for the children. 
Financing surrogacy
The breakdown of fees vary greatly and only estimates were available.
Surrogacy includes 4 main costs – Surrogacy agency fees, surrogate mother compensation, medical procedure fee and legal fees for surrogacy agreements. These in turn depend on 2 main things – living costs in a surrogacy country and the cost of healthcare in the country where IVF and surrogate baby delivery is done.
The entire process, including surrogacy and legal fees, costs about USD130,000 to US150,000. In the 2018 gay Singaporean man's case, they paid the surrogate mother USD200,000.
The surrogacy cost in Laos is around LAK60,000 – 80,000, including IVF, egg donor and surrogacy services
More averages can be found here.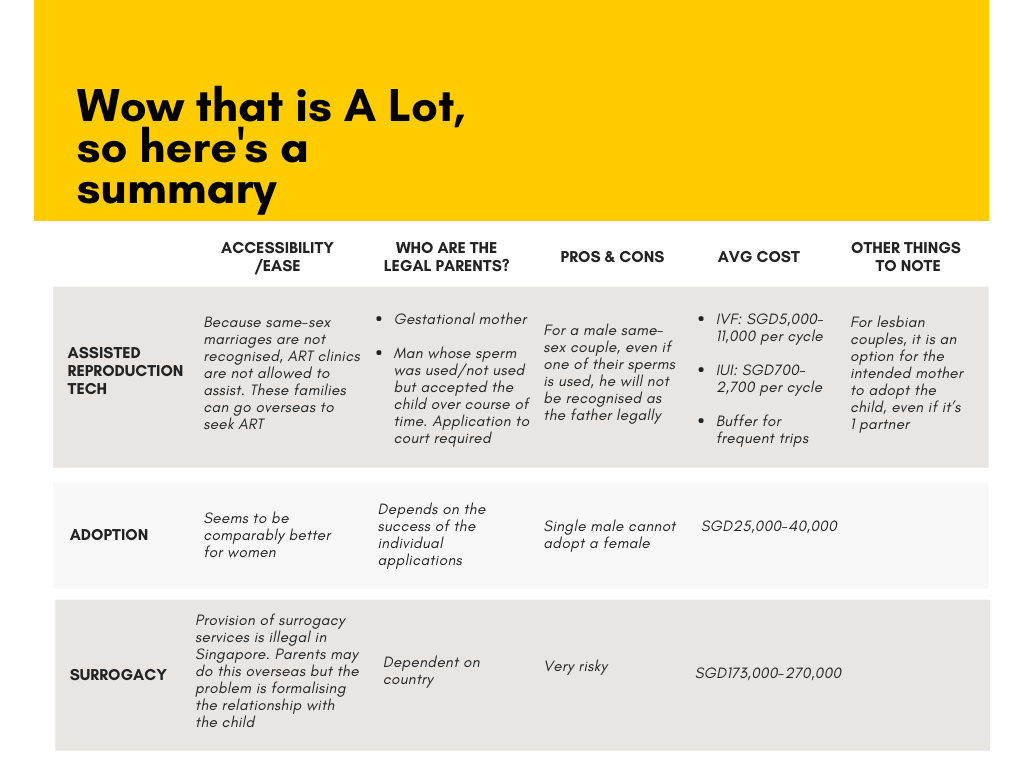 In the Meantime… 
Regardless of whether it's assisted reproduction or adoption, the options are difficult because same-sex couples/families are not recognised in Singapore. As our comrades continue to fight for anti-discrimination, Prident focuses on financial, housing, estate, business and wellness matters. 
For families that are considering raising children, we strongly encourage proper estate planning so that we can best prepare for and protect the people we love. This means getting things like your insurance/CPF nominations, LPAs, AMDs, cohabitation contracts and more done. We shared some information on how to do these in our previous articles and you can access them at www.prident.co.
It's not easy to make InSuRance NoMINaTiOnS sound incredibly sexy, or particularly easy to navigate. That's why we recommend that you delegate this out to those certified to do these non-sexy things. That way, you get to spend the remaining 99% of your energy on things you are good at and enjoy. Cheers!
Special mention: A big thank you to Brenda and Pearlyn @twomomssg (hi Velda!) and another couple who would like to remain anonymous for sharing your stories and tips with me (: 
Resources and Credits: 
MOH Assisted Reproduction Services TNC
Licensing Terms and Conditions on Assisted Reproduction Services
Straits Times – 9 Things to Note when Adopting A Child in SG 
About the Author
Wan Yi is in her 5th year of providing holistic financial planning services, which includes insurance, investments, family and retirement planning, business and estate planning. To do this, she partners with law firms, general insurance firms as well as investment platforms to ensure top notch service.
Her aim is to equip people with the clarity and confidence to execute decisions. There is a lot of noise, but money does not have to be complicated. Wherever you're at, let's make a plan and adapt along the way. You can reach out to her through Prident, LinkedIn or Facebook. 
Disclaimer: The views expressed belong solely to the individual contributors in their individual capacities and do not necessarily reflect those of their respective employers, organisation or other group. Any information provided does not constitute legal, financial or any kind of advice. You should obtain specific advice suitable for your circumstances from an appropriate professional before taking any action. Although we try our best to ensure the accuracy of the information on this website, you rely on it at your own risk. We welcome feedback relating to factual accuracy via email at info@prident.co.