In part 1 of our LGBTQ+ series, we looked at how single LGBTQ+ could purchase a home of their own in Singapore. When we look at general marketing of properties here, the advertisements are almost always targeted at families and (heterosexual) couples. Government grants and initiatives are in favour of married couples, offering them various assistance  such as larger HDB grants, more property options as well as ABSD remission when upgrading and transitioning to another property.
Given that our LGBTQ+ community is still fighting an old colonial law criminalising gay sex between men, it will likely be awhile before we can expect our government to look into LGBTQ+ welfare and home ownership. Thus, it is up to us to navigate the system and make our 'pink' mark on this little red dot.
For many LGBTQ+ couples,  buying a home together is a 'major' milestone– short of getting married legally (if ever possible in Singapore). Without a legal marital status,  LGBTQ+ couples need to educate themselves on potential legal implications when it comes to sharing assets together, such as how to deal with division of assets should they decide to go separate ways; or estate legacy issues in the event of death or incapacitation. When it comes to home ownership in LGBTQ+ relationships, many things are not as clearly laid out as it is for a legally married heterosexual couple.
Fortunately, there are ways to get around it, but first LGBTQ+ couples must understand the importance of planning things out carefully together.
In terms of home ownership, there are several options for LGBTQ+ couples in Singapore, each with its pros and cons. Let me walk through some of these options in this article and we will dive deeper into legal issues in the next post.
Buying an HDB flat together. Yes, it is possible…
Like the Single Singapore Citizen Scheme, there is a similar scheme that allows for up to 4 single Singapore citizens to purchase an HDB flat together. It's called the Joint Singles Scheme (JSS), and although not explicitly created for LGBTQ+, it allows two non-related persons to co-own an HDB together. Of course, a host of HDB rules and criteria come with it.
Under the JSS:
All the co-applicants must be Singapore Citizens (SC).

The flat must be bought jointly, i.e. each single SC must be listed as a co-applicant.

Unmarried or divorced: 35 years old or above

Widowed or an orphan: 21 years old or above

For orphans:

At least one deceased parent must have been an SC or SPR

If below 35 years old, he/she must not have another sibling who is below 35 years old buying/owning another flat under the:

Orphans Scheme

Single Singapore Citizen Scheme

Joint Singles Scheme (

HDB Link

)
Apply for a BTO HDB flat/Sale of Balance/Open Booking
LGBTQ+ couples could also use the Joint Singles Scheme to apply for a new BTO Flat directly from HDB. However, be ready for a tight squeeze, as we are only allowed to buy a 2-room Flexi flat in non-mature estates – this is exactly the same as the Single Singaporean Citizen Scheme.
Now don't be misled (in HDB terminology), a 2-room Flexi is a one bedroom unit – not 2. Averaging about 500sf. (Might be enough room for 2 but it's going to be a squeeze if 4 people share a flat.)
But if you are ready for the squeeze, and feel strongly about exercising your rights as a SC to buy a new HDB flat, please take note of these pre-requisites:
You have to be a Singapore Citizen,

At least 35 years old and above.

Haven't owned, disposed or have an interest in any local non-HDB or overseas property within 30 months of applying for the flat.

The combined gross monthly household income doesn't exceed $7,000 (This could easily disqualify many couples, unless they are both in the lower income bracket group)
The  Sale of Balance and Opening Booking offer another way of securing a flat from HDB directly, the requirements are the same as BTO. However it will be subject to availability as HDB has a formula for allocation of units amongst different priority groups. Not so easy, unless you are very lucky – but it is still an option.
LGBTQ+ couples buying from HDB under JSS could also be eligible for the Enhanced CPF Housing Grant (EHG) of up to $80,000 – based on income level. In additionl, check out the Proximity Housing Grant of up to $15,000 if they choose to live with or close to their families (defined as anywhere within a 4 km distance).
The above are good and affordable options especially for the lower income group to own an HDB flat, if they cannot afford the more expensive resale HDB flats and private apartments.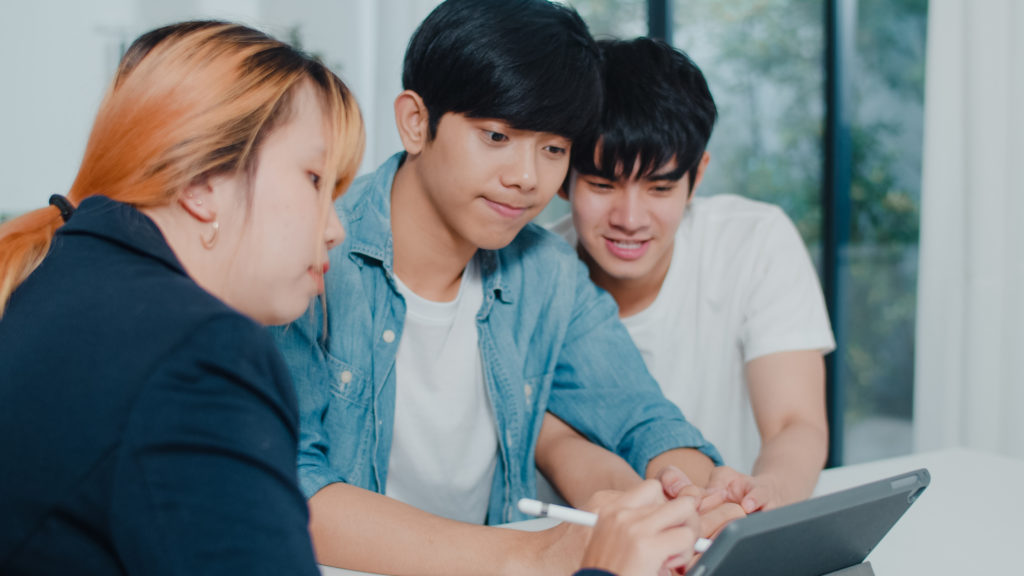 Buy a resale HDB flat
Maybe the idea of squeezing into a small apartment with 1 bedroom may not be that 'dream home' most LGBTQ+ couples are wishing for.  The good news is that JSS also applies to the open HDB resale market. This opens up a whole lot of opportunities for LGBTQ+ couples to pick and choose from a wider range of HDB types and locations.
Of course, there are still eligibility requirements to meet. The majority of the criteria remains the same with the exception of income ceiling – there is none. So for those who are not eligible for HDB because their household income overqualified them for BTO, resale HDB is the way to go.
The icing on the cake? HDB grants are also applicable to couples whose combined income falls below $14,000.
Link: HDB Page on Buying a Resale Flat.
Buying an Executive Condo (EC)
Unknown to many LGBTQ+ couples the EC is open to applicants under the JSS as well!
For those of you who are not sure what is an EC? An EC or Executive Condominium, is a more affordable, subsidised version of condos launched and sold by the HDB. And as such, they come with a set of strict rules for buyers.
While an EC has the facilities and the looks of a condo, it will only become a full private property after the 11th year. These are the limitations of selling the property before the 11th year:
First 5 years

: Like HDB flats, ECs cannot be sold to anyone until five years from the date of purchase of the unit

6th to 10th year

: the unit can only be sold to a Singapore Citizen or SPR who qualifies to buy an EC.

From the 11th year onwards

: Selling restriction no longer applies; the unit can be sold to anyone, including foreigners
So under the Joint Single Scheme (JSS):
Two or more singles (max of 4) aged 35 or above can buy the EC jointly together.

In this case, the average gross monthly household income mustn't exceed $16,000.

Applicant(s) must not own other property overseas or locally, or have not disposed of any within the last 30 months;

Have not bought a new HDB/ DBSS flat or EC, or received a CPF Housing Grant before; or, have only bought 1 of these properties/ received 1 CPF Housing Grant thus far.
But, here comes the catch: Although the income ceiling is much higher, the CPF Housing Grant for Singles/ Joint Singles is not available when buying an EC. So, if you ask me, there isn't much difference between buying an EC and private condo directly. Some might argue that ECs are cheaper, but the longer holding period and restrictions might just kill off any appeal of buying ECs under the JSS.
Link: HDB Executive Condo Page.

How about SPRs & Foreigners?
This is where the difference sets in when compared to a married heterosexual couple. A heterosexual SPR or foreigner, could co-purchase an HDB if they marry a Singapore Citizen spouse.  In the case of LGBTQ couples, unfortunately the Joint Singles Scheme is not open to SPRs and foreigner.
The only way to live with a Singaporean partner in an HDB flat is for the latter to buy the HDB flat under the Single Singapore Citizen Scheme as a sole owner. Being a non-family, the SPR or foreigner partner cannot be listed as an essential occupant. They have to be listed as a tenant of the flat.
Age isn't just a number
Similarly, if one person in the couple is below 35 years, the older person will have to purchase the flat in his name under Single Singapore Citizen Scheme and list his partner as a tenant in the flat. In this case, when the younger of the couple reaches 35, they can try to apply to HDB to switch to a co-ownership under JSS. Note that this is subject to HDB approval and there is a lack of actual cases to prove that this works. Unless co-financing is required to support the joint flat, he might be better off buying a separate HDB on his own.
 For this reason, it is good to work with a LGBTQ+ friendly realtor who understands LGBTQ+ issues and will be able to give you a tailored solution.

Buying a Private condominium/apartment
Having seen all the options in public housing, let us look at the private option – to buy a condominium or apartment. This is probably the best option (if finances allow of course) as:
Both of you don't have to wait till you're 35. Anyone above 21 years can buy a private property.

You can both co-purchase the private property regardless of your marital status.

You can buy a private property with a SPR or foreigner. However an ASBD (Additional Buyer Stamp Duty) will apply:

A SPR buying a first property has to pay 5% ABSD

A foreigner buying a first property has to pay 20% ABSD

It is worth noting that a SPR and foreigner could waive his/her ABSD if he/she marries a Singaporean spouse and buys the property as a matrimonial home. Needless to say, this does not apply for LGBTQ+ couples unfortunately.
For many LGBTQ+ couples,  the idea of owning a private property may seem out of reach, but the truth is, there are a handful of affordable 1-2 bedder condominium units in Singapore that they could afford with proper planning. Having a LGBTQ friendly realtor work out the numbers to create a custom plan will help a couple achieve their goal of building a dream home together.
And when you've found that dream home and think you are both ready to dive-in.
HOLD UP.
You might want to get in touch with a lawyer familiar with LGBTQ+ estate planning to talk about the legal implications and make some arrangements to protect your shared asset together. I will touch on this in the next article.
---
Disclaimer: Please note that the views, thoughts, and opinions expressed in the text belong solely to the author, and not necessarily to the author's employer, organization, committee or other group or individual. Should there be any facts inaccurately presented, we will kindly appreciate if you could inform us at info@prident.co